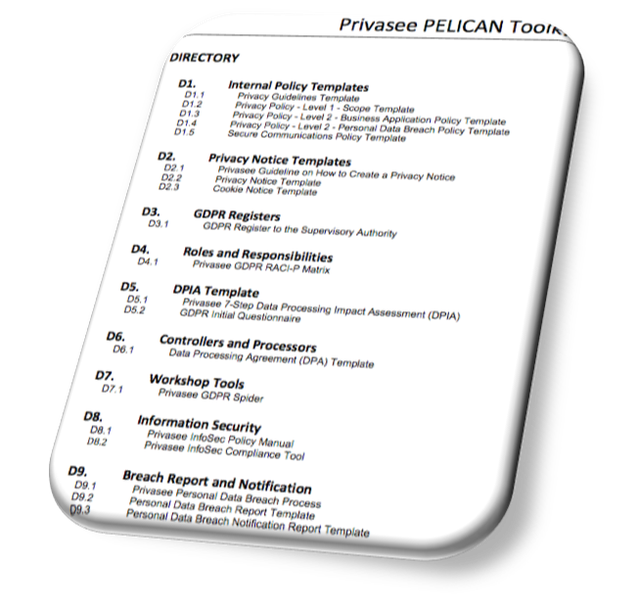 The GDPR Toolkit - self help to your organisation
is a self-help kit which includes not only templates and guidelines for your Internal Privacy Policy, but also easy step guides for the External Privacy Notices, GDPR registers, DPIA templates, DPA templates, cybersecurity checklists and how to treat breaches.
Breach Process
This is a breach process which you can apply to your organisation unchanged if you use the Privasee Breach Busters low-cost breach notification service.
Breach Report
A template to be completed by the reportee of the suspected breach. At this stage the assessment on whether it is a breach, and if it is a potential risk to the rights and freedoms of the individual has not started.
Cybersecurity Checklist
This is a simplified cybersecurity toolkit in a checklist approach which enables you to document your approach to securing personal data as required in Article 32 of the GDPR.
DPIA
This is a 7-step Agile data protection impact assessment (DPIA) risk tool which is used by Privasee consultants to conduct privacy risk assessments, and included in the Pelican for free!
Do you want to know more?
You can ask our Agents now how to get access to this toolkit, right here on this site in Chat Help. Or you can ring Privasee direct.